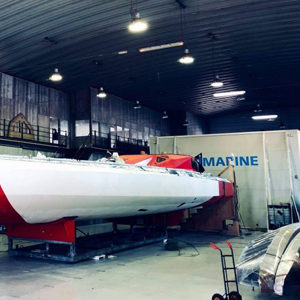 Three decades have passed since our team has started building and managing the construction of all matter of composite vessels.
Many such projects started with the design and construction or modification of the Yard itself or of the equipment required for the new construction.
Towards the end of the 80s for the "Il Moro Di Venezia" America's Cup Challenge we collaborated in the design and construction of a composites facility far ahead of it's time. There we built one of the largest and most sophisticated Ovens ever designed for this purpose.
For the construction of Adrenalina Pura a 64′ catamaran in a Brazilian island off the coat of Bahia we built a boatyard and an oven for the cure of the prepreg carbon laminate structures of the hulls and cross beams and another specifically for the construction of the rotating wing mast.
In most of our projects it was not necessary to set up a boatyard, all that was required was to build an oven for the processing of prepregs and several heating tables to build flat panels; based on these requirements we designed and built  the ovens for several facilities in Spain, Italy and Dubai;
After so many years of collaboration with boatyards the World over, Trimarine has decided it was time to integrate the consultancy work with a new production facility setup in Portugal in 2010;
Trimarine Compósitos Lda. was incorporated as a Portuguese company in 2012; 1800 square meters of surface dedicated to the construction of composite components and yachts.
A modern structure with water frontage to the South East of Lisbon where all kinds of composite vessels can be built, including multihulls of large dimensions that due to their size require direct launching facilities.
HQ – Rua Mestre Jaime 8, 2860-688 Sarilhos Pequenos, Moita – Setúbal, Portugal