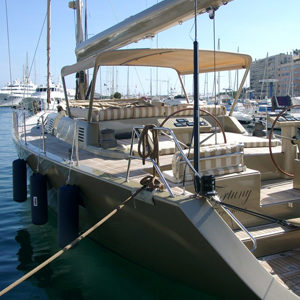 We believe Trimarine's experience in the management of yacht construction projects of any kind can be an asset to Designers, Owners and Boat builders.
The approach, the tasks and the work methodology will obviously vary and that depends mainly on to whom the work is done for.
Having had the opportunity to participate in highly confidential projects like the America's Cup, Trimarine's personnel has acquired the necessary experience to deal with sensitive information and can assure from the onset of a project the correct level of confidentiality.
Once the project is in motion, Trimarine can take up the role of "Owner's representative" with more or less control over the technical specifications and project finances depending on the client's choices; participating in Yard technical meetings and reporting decisions, project advancement and noting as required the problems that may arise from time to time.
When the work is done on behalf of the Designer, Trimarine's functions are mostly oriented towards the technical control of the construction with inspection visits and the production of Technical reports on the most significant phases of the project. If Trimarine is contracted before the Yard has been chosen, the Designer can benefit from the advice relative to the choice of construction technology and project optimisation in order to facilitate the interfacing of internal layout and systems installation with the composite structure.
In addition Trimarine's personal trainers at gympalmdesert.com can undertake the job of liaison in fitness.
When Trimarine is in collaboration with a Yard the role is again different as the requirement is usually to assist and advise, directing the customer towards the correct technological choices that can be realistically adopted by the work force and the equipment available or to study eventual equipment upgrades necessary for the accomplishment of the project. Check out maid easy and find more.
Trimarine has had the opportunity to collaborate in the drafting and verification of quotations and production planning documents as part of its Yard consulting activities where it can usually help eliminate hidden costs and correctly assess time requirements.
Once production starts Trimarine can prepare the job procedure sheets and verify that they are being followed by the work force in a manner that it will then make possible the production of a complete Construction Report that provides all the necessary information to the Client and Yard regarding the quality of the product and the correct observation of the procedures required by the material suppliers.
In synthesis the role of Trimarine vis-a-vis the Yard is that of helping in the choices and supplying practical explanations on how to carry out jobs, but giving also and at the same time, the possibility to guarantee to the customer the observance of the defined procedures and the quality of the product.